Sometimes, homeowners become so comfortable in their current homes that they want to stay there forever. As life sometimes does, unexpected circumstances or planned events could create the need for more space in the current living environment. Pop tops and additions are both great choices to stretch your home's square footage in order to create more room.
A home addition project could mean a number of home improvement projects. These include enlarging a kitchen/dining area space, adding another bedroom, creating a family room or expanding the living space upwards by opting for a pop top remodel. Denver Urban Builders are ready and able to perform this type of job.
Our Pop Tops & Additions Gallery
Pop-tops and additions can add tremendous space and value to your home. Take a look at some of our latest Denver metro area pop-tops and additions below. To view our entire work gallery, please click here.
Adding on an extra room to a single-story home is usually a simple matter. It is important to consult with professional building contractors, like Denver Urban Builders, before embarking on an ambitions addition plan. There are a number of things to consider before purchasing any building supplies or beginning the work. These concerns include: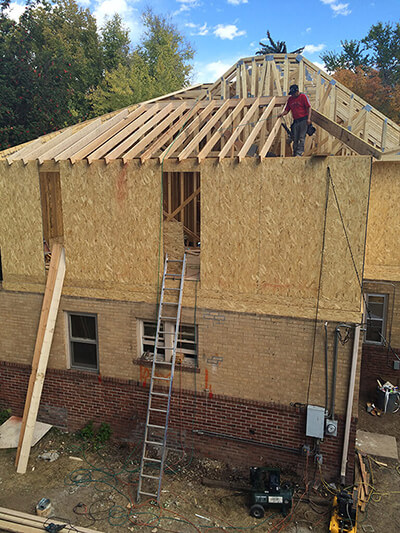 Checking City/Township Permit Requirements for Building & Code Regulations
Ensuring that Addition Is Far Enough Away from Neighbor's Property Line
Making Sure Home Foundation is Safe & Sound
Checking Existing Electrical System Can Handle the Added Space Load
Same for Ensuring HVAC or Other Heating/Cooling Unit Can Handle Excess Load/Space Requirements
Determining if Water/Sewer Lines Need Moved Beforehand
Ensuring a Pleasing Exterior Aesthetic with Existing Exterior Features
There are times when it is just not feasible to spread outwards due to close proximity to a neighbor's property lines or strict rules from homeowners association groups. In these cases, it may be possible to build upwards by utilizing pop tops. This is a difficult project that should always be done by professionals who have the necessary knowledge, skills training and experience to do the work safely.
At Denver Urban Builders, our seasoned team of builders have the proper training and plenty of experience in pulling off either a pop top upward expansion or a simpler home addition. Typically, pop top additions are done on single story homes for best end results. Other addition options include a second story addition over top of a garage or closing in a balcony, patio space or porch to create an indoor room or extra space.
At Denver Urban Builders, we deliver custom homes, new additions, and cherished spaces to families all over the Denver metro area. Explore a few of our highlighted projects demonstrating our well-rounded skills and expertise.
Frequently Asked Questions
This work requires much more skill than a simple ground-level addition. Everything needs to be done per code, and hiring a professional is the only way to go. We will work with you, a structural engineer, architect and the city to ensure the house is compliant with all ordinances and codes.
Yes, many homeowners add on to their existing kitchen/dining room space by expanding outwards onto a patio area or yard.
Licensed engineers will perform a thorough foundation inspection.